Reverse Mortgage Advantages
Federal Housing Administration (FHA) Guarantees No Repayment Of The Loan Until The Last Borrower Moves Out, Sells Or Passes Away*
When Client Moves Out Of Their Home, Client Or Their Estate Has Up To 12 Months To Repay The Loan
No Penalty For Early Payment (May Vary In Some States)
This Loan Is A Non-Recourse Loan (If The Balance On The Loan Exceeds The Home Value, HUD/FHA Makes Up The Difference!)
Heirs Of Estate Keep Any Excess Proceeds From The Sale Of The Home
*There are some circumstances that will cause the loan to mature and the balance to become due and payable. Borrower is still responsible for paying property taxes, insurance and maintenance. Credit is subject to age, property and some limited debt qualifications. Program rates, fees, terms and conditions are not available in all states and subject to change.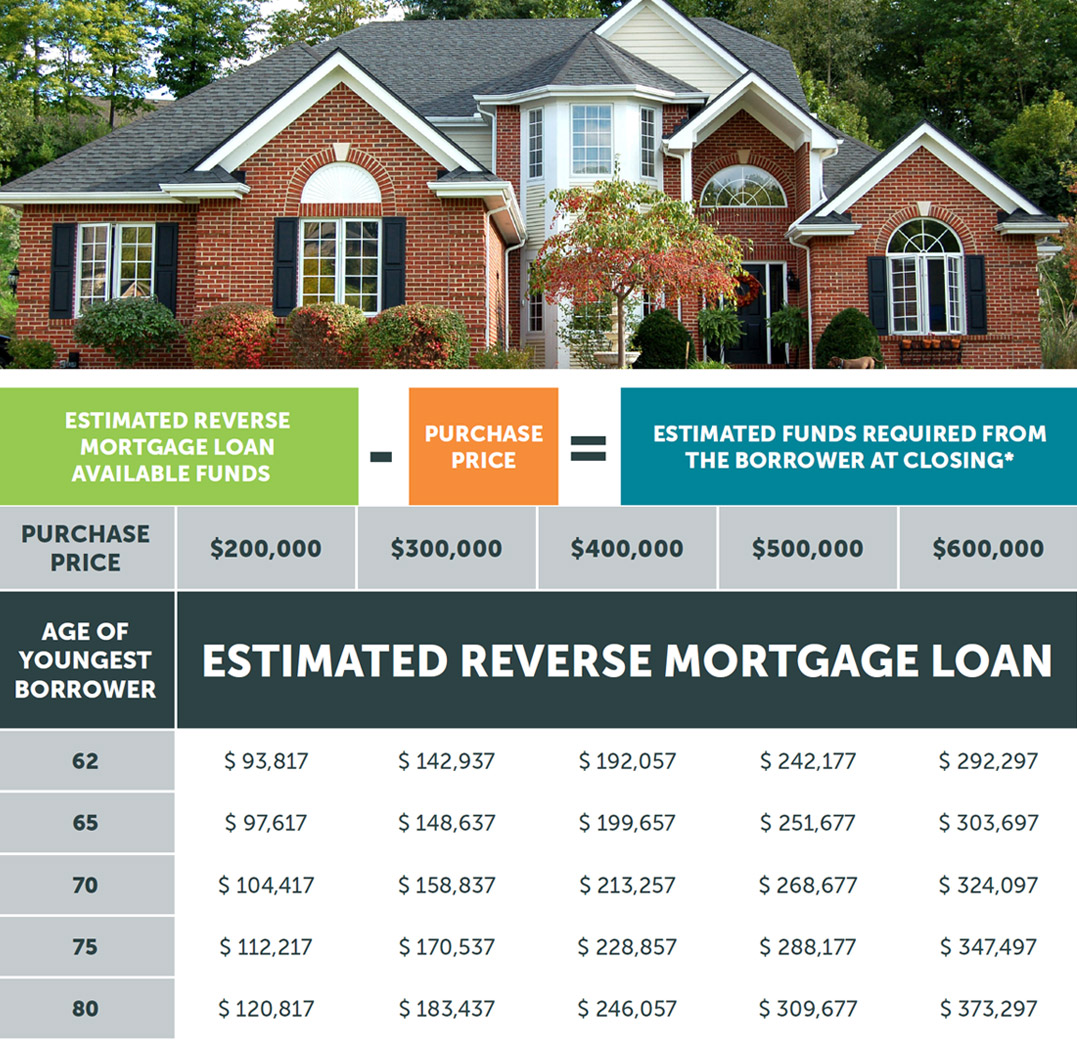 This table shows the estimated funds available from utilizing an FHA-insured reverse mortgage to purchase a home. This information is provided as a guideline and does not reflect the final outcome for any particular homebuyer or property. *The actual reverse mortgage available funds are based on current interest rates, current charges associated with loan, borrower date of birth, the property sales price and standard closing cost. Interest rates and loan fees are subject to change without notice. Following the closing of the home purchase, no further principal or interest payments will be required as long as one borrower occupies the home as their primary residence and adheres to all HUD guidelines of loan. Borrower must remain current on property taxes, homeowner's insurance, HOA dues, and maintain the property. The cost of any reverse mortgage loan depends upon how long the loan is kept and how much the property appreciates in value. Generally, the effective cost decreases across the life of the loan.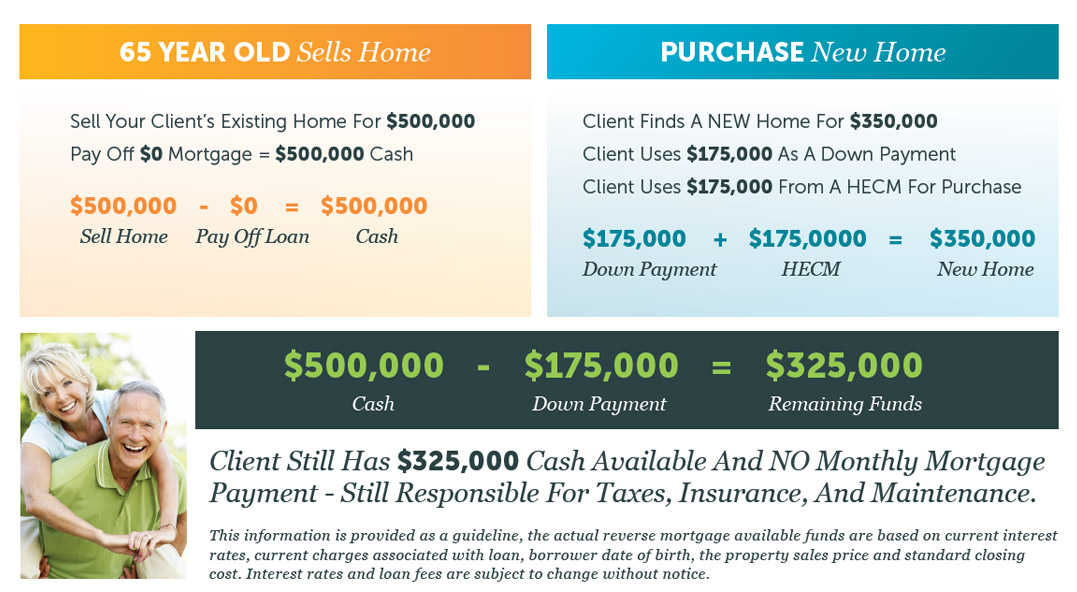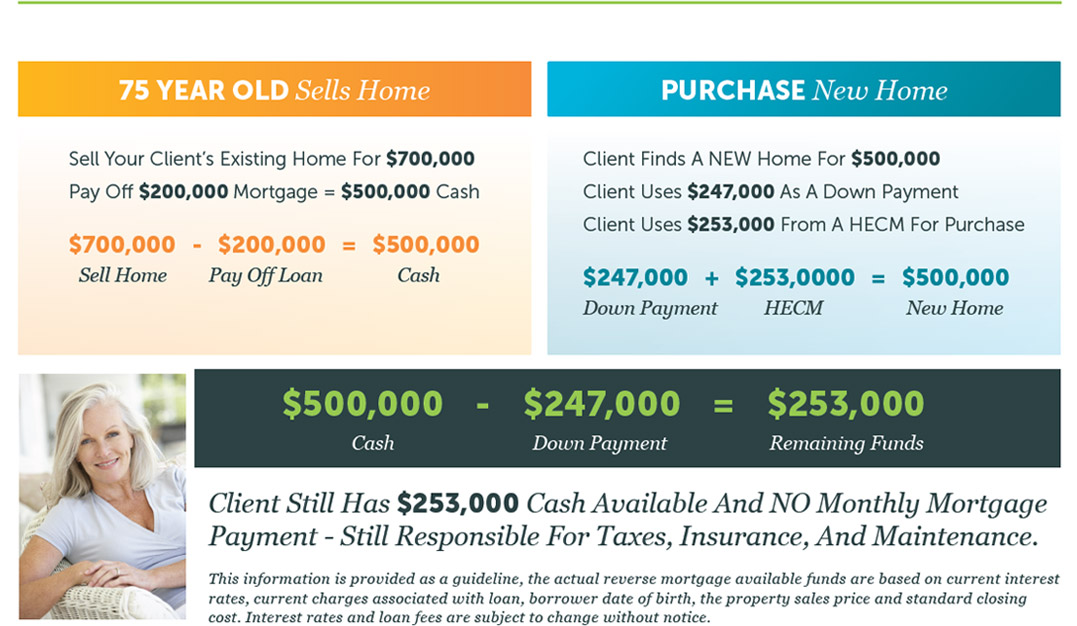 Benefits of using a Certified Aging-In-Place Specialist (CAPS)
The Certified Aging-in-Place Specialist (CAPS) designation was developed by the National Association of Home Builders (NAHB) Remodelers™ Council, in collaboration with the AARP, NAHB Research Center and NAHB Seniors Housing Council.
A CAPS is a certified professional who has been trained on the unique needs of seniors in order to modify homes for them to live safely and comfortably in their maturing years while still maintaining a familiar environment. A reverse mortgage can be a great source of cash flow to provide the cash they need to fund upgrading their home so they can afford to update their home.
Modernization and Remodeling
Modernization isn't the only need for retirees to upgrade, but oftentimes they need to renovate so they can continue to live at home. It's far more cost effective to live at home and get in-home care than it is to live in a long-term care facility. Medicare will help seniors pay for living in a nursing home, but tends to be a lot harder to get government assistance for upgrading a home.

Age 55+ High-Tech Home Improvement Wants
80% To Reduce Their Home Expenses Such As Smart Thermostats Or Apps To Control Appliances.
76% To Monitor Their Health At Home, Such As Seniors, Alerts, Or Medication Reminder Apps.
67% Interested In Optimize Their Health Air Purification Or To Improve Sleep
64% Connect Them With Their Family Such As Video Chat Interactive Devices
58% Help Maintain Their Home With Cleaning Robots Or Heated Driveways
Age 55+ Upgrade Wants
Swing Out Corner Cabinets
Roll-Out Trays To The Bottom Of Base Cabinets
Induction Cook Tops
Sensors On Beds
Ergonomic Bathrooms – Walk-In Showers And Tubs
Widen Doorways
Remove Steps
Open Shelves
Wall-Mounted Sinks
Non-Slip floors
Grab Bars That Do Double Duty
Dual Purpose Grab Bars
SOURCE: Home in Retirement: New Freedom, New Choices – A Merrill Lynch Retirement Study conducted in partnership with Age Wave – Page 16)